The Southern California Varsity Red Division got thrown into a bit of a tizzy after Fallbrook shocked previously-undefeated Torrey Pines with a 51-0 shutout.
The score, as per league rules, goes into the books as 40-0. But with Torrey Pines coming into the game 3-0 against 2-1 Fallbrook. HS All American hooker and Fallbrook No. 8 Steve Branham said it was a complete team effort coupled with a smart game plan.
"We had just a great kick-and-chase," said Branham. "They had a great defensive launch in their line, so we put in grubbers and chips over the top."
Fallbrook celebrates. Joni Branham photo.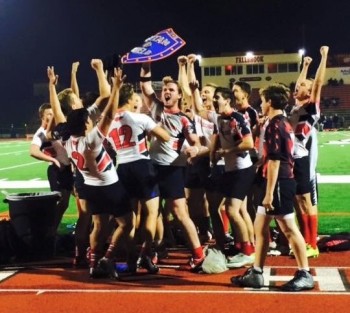 ​Flyhalf Sierra Arteaga was key to this effort, as it was his kicking from the hand that set up a variety of tries for Fallbrook. And the chasers were myriad, with the tries going to a variety of players.
"It was a great game plan that we had from the beginning, and Sierra is just great at those kicks; he had the best game for us," said Branham.
But as impressive, perhaps more so, was the shutout. Branham said the Fallbrook squad just made their tackles, and "we pushed them back when we tackled them instead of being riven back. This was a great game for us and I was really excited about it."
This is an annual challenge match between the two Southern California teams, as they play for the Titan Shield. Obviously Fallbrook claimed it this year.
So now Fallbrook, after starting 0-1, is in 2nd place now after beating Torrey Pines. Still in 1st is Cathedral, which won comfortably over La Costa Canyon (score in the books is 45-5). Torrey Pines and Cathedral face off next week. If Torrey Pines rebounds we could see Fallbrook take 1st. Regardless, all three teams will have to battle it out in the playoffs.